Holly at A Life Size Catholic has started a new MEME called Pay it Forward. The thought behind it is that we share wonderful links and information that we find on the internet in an effort to spread good news. It's a great idea!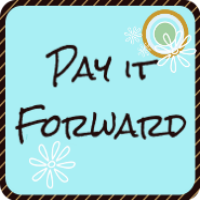 It was about a month ago when the National Catholic Register posted a story about a group of mother's of priests in Minnesota who wanted to support one another, feeling that with their son's call to the priesthood, they were also called to a new role in their faith. As the mother of a son who is discerning a call to the priesthood, I loved this story and immediately shared it with some local friends whose sons are also in the process of discerning the priesthood or who are already in the seminary. I would love to see this initiative here in Milwaukee, hopefully not only for mothers of priests but for mothers of seminarians and those discerning a call to the priesthood as well. What a wonderful source of friendship this could be for so many women as they lovingly support their sons in the company of others who find themselves in the same life situation!
You can read the story here:
Mothers of Priests Group Supports Sons' Vocations
Sometimes I wish I could just quit my job and be a full-time volunteer for efforts like this because it seems so wonderful and my desire to do more for the church is deep, but I'm sure that many of you can relate to the woes of a busy mother of five, working 30 hours a week, volunteering at my parish and at several other organizations-it's impossible to keep taking on more without leaving something behind. How to squeeze it all in is beyond me. One thing for which I am grateful, though, is the
Monthly Prayer Request for Priests
, which, once I got it set up for Milwaukee, involves very little work on my part but reaps great rewards of prayer for so many priests.
If you feel that you would be called to establish a Mothers of Priests Group or the Monthly Prayer Request for Priests in your diocese, please visit one of the above links to learn more! Thanks Holly for this opportunity to PAY IT FORWARD! Visit
Holly's blog
for the *rules*!